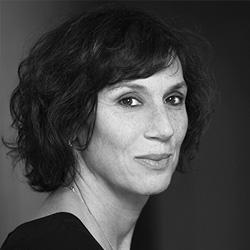 PAMELA FRENCH
Documentary Programming Director
Pamela French's work experience includes producing and editing short-form films, web content videos for various clients (TED Talks, Conde Nast, About.com, Hearst Digital, The Neighborhood Playhouse Theater, The Dept. of Education, etc.), field and segment producing for television (recent shows include Chopped for The Food Network and Young Marvels for Ovation), and producing and directing a full-length feature documentary, Becoming More Visible. In 2010 she was the studio manager for an online video start-up, videoBIO; in 2007 she produced/directed an hour documentary for TLC; and since 1995 she has segment produced for the New York Times, the Food Network, HGTV, and the Style Network. Pamela also directed multiple music videos and commercials, edited a Cannes-selected feature film, and in 2011 won the Pepsi Refresh Challenge to make a socially-conscious film about greening New York City's schools.
Thank you to our sponsors and partners. We appreciate your support of the Mystic Film Festival!